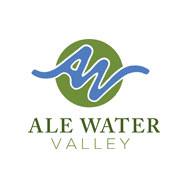 Experience the Ale Water Valley on a mountain bike with bikepacking bags. Experience The Reiver Raid. Follow in the footsteps of the infamous Border Reivers, raiders along the Anglo-Scottish border in the late 13th century to the beginning of the 17th century and discover a hidden gem in the South of Scotland.
This is a loop created by Capital Trail designer and singlespeed round the world cyclist Markus Stitz, starting and finishing at Tweedbank Station, less than an hour on the train from Edinburgh. It will take you through the magnificent Ale Water Valley on a mixture of farm tracks, Landrover tracks, singletrack, quiet roads and lanes.
This is a 2 to 2.5-day loop designed for intermediate to experienced cyclists, with good bikepacking and mountain bike experience. For those with less experience please factor in more time, or consider shortcuts along the quiet country roads. The trail is not suitable for riding in wet conditions, and fat tyres are recommended. Please respect the landowners properties, close all gates and don't disturb any wildlife.
For resupply and more activities along the route you will find the following options:
Melrose (shops, cafes, restaurants) 6.8 km
Bisley at Braidwood (restaurant, clay pigeon shooting) 25.8 km
Ancrum (pub, shop) 45.7 km
Riddell Estate (accommodation – here) 86.2 km
Lilliesleaf (pub, cafe, restaurant) 88.3 km
Whitmuir Farm (accommodation) 95 km (ca. 2 km off the route)
Selkirk (shops, accommodation) 99.8/162.3km
New Woll Estate (golf, restaurant, accommodation) 114 km
Ettrickbridge (pub, accommodation) 144 km
Abbotsford (restaurant, cafe, accommodation) 171.5 km
Find out more about the route and download the GPX here:
Pictures from the route can be found here:
More videos can be watched here: