The Highland Perthshire Drovers Trail is a circular multi-day bikepacking route which offers an enjoyable off-road journey steeped in history through a wide variety of Scottish landscapes and small market towns and villages. Starting and finishing in Pitlochry it features the remote and scenic glens in the Cairngorms National Park, the Tay, Scotland's longest river, Scotland's smallest and oldest distillery, the last surviving oak tree from the wood that inspired Shakespeare's Macbeth, waterfalls that heartened Robert Burns, Wade's Military Roads, drove roads and some of the best gravel paths that the Highlands have to offer. The route should be ridden anti-clockwise, starting and finishing in Pitlochry, but can be started anywhere along the route.
Download the GPX for free here (zip file)

Distance: 331 km
Ascent: 6,060 m
Terrain: A mixture of roads, small roads, forest tracks, singletrack, hike-a-bike section, walking paths, cycling paths, landrover tracks
Difficulty: Expert, includes hike-a-bike sections, remote terrain, steps to carry the bike up, (at time) busy road sections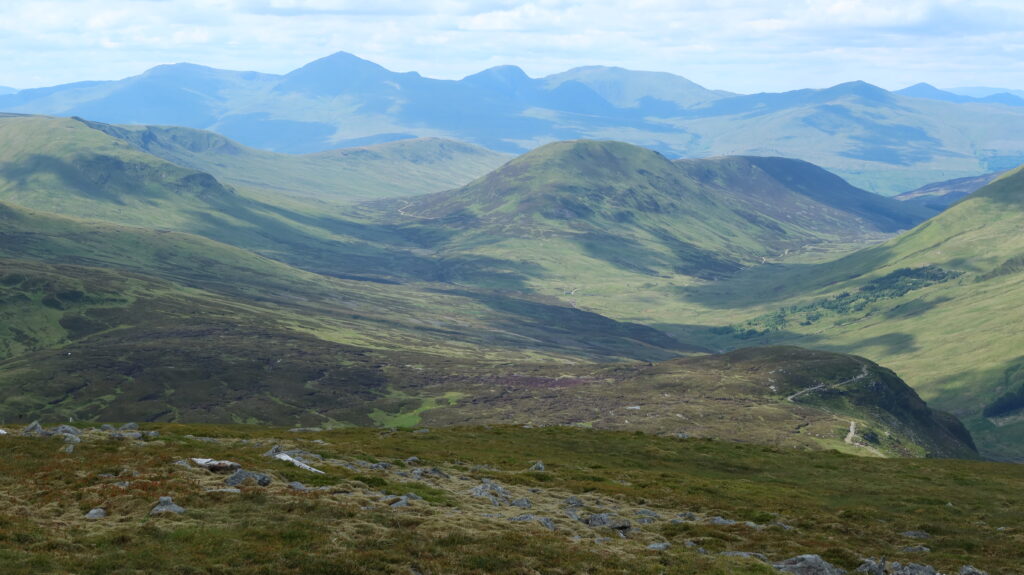 For more detailed descriptions and the GPX files for the various stages of the route you can find out more on perthshiregravel.com or by clicking on the links below:
Stage 1 – Pitlochry to House of Bruar
Stage 2 – House of Bruar to Loch Tay
Stage 3 – Loch Tay to Sma' Glen
Stage 4 – Sma' Glen to Pitlochry
The Highland Perthshire Drovers Trail in the press
26 Mar 2021 – Bike Radar – Seven must-ride routes in Scotland with epic views
14 Dec 2020 – UK Hillwalking – Bikepacking the John Muir Way and Following Drovers in Perthshire
11 Dec 2020 – Heartland FM – Biking brings boom to Highland Perthshire
3 Dec 2020 – Wild Scotland – Final report rounds up the highly-successful first phase of the Highland Perthshire Gravel Trails Project
20 October 2020 – Red Bull – 10 of the best bikepacking routes in Scotland
20 October 2020 – Red Bull – 10 of the best gravel routes in Scotland
23 Sep 2020 – bikepacking.com – The Complete Guide to Bikepacking Scotland
21 Sep 2020 – Advntr.cc – Short film: Drovers, perthshiregravel.com
15 Sep 2020 – Daily Record – Perth and Kinross residents asked to share their tales of new bike trails
8 Sep 2020 – VCGH Blog – The Perthshire Drovers' Trail
1 Sep 2020 – Velo Journal – Viehtreiber auf zwei Rädern
31 Aug 2020 – inews – Cycling holidays: How to organise a bikepacking adventure, from novices to pros
12 Aug 2020 – The Guardian – How to take a cycling holiday this year despite the pandemic
1 Aug 2020 – Scotland Correspondent – Trails of History and Adventure
30 Jul 2020 – Thüringer Allgemeine (Germany) – 331 Kilometer durch Highland Perthshire in Schottland
24 Jul 2020 – Daily Record – Historic 331km-long bikepacking route through Perthshire is the star of new video
23 Jul 2020 – ukgravelbike.club – Drovers – New film from Bikepacking Scotland tells the story of ancient drove roads
22 Jul 2020 – Radavist – Drovers
22 Jul 2020 – Chainslapmag – Drovers
22 Jul 2020 – Yellow Jersey The Draft – Staycation: 5 cycling routes around Scotland
21 Jul 2020 – Ciclismo Máster – Drovers. Gravel en estado puro por Escocia.
20 Jul 2020 – Adventure Journal – Scottish Charm Meets Scottish Gravel on These Ancient Cattle Roads
17 Jul 2020 – Capovelo – Bikepacking Scotland's Drovers Trail
17 Jul 2020 – Bikerumor – Friday Roundup: Bikepacking Drovers & Bears Ears, Ride Together, Win Bombtrack, POC, Rapha & more!
17 Jul 2020 – Scottish Field – Film follows the drovers' trail through Perthshire
17 Jul 2020 – The Overland/Morvelo – Introducing The Drovers Trail. A new 331-km-long gravel bikepacking route in Scotland.
16 Jul 2020 – road.cc – Terrific video highlights gravel cycling routes on Scotland's ancient drovers' trails
16 Jul 2020 – Rough Ride Guide – Perthshire Gravel Website
16 Jul 2020 – Apidura Journal – Drovers
16 July 2020 – Singletrack/grit.cx – Eleven Free Gravel GPX Routes Plotted In Perthshire
16 Jul 2020 – The Courier – New film tells the story of ancient drove roads and launches guide to off-road cycling in Highland Perthshire
15 Jul 2020 – Kinesis UK Blog – Drovers, gravel and loads of smiles
25 Nov 2019 – The National – New gravel bikepacking trails set to boost tourism in Highlands
21 Nov 2019 – off-road.cc – Highland Perthshire Cycling secures investment for the Gravel Trails Project
14 Nov 2019 – The Courier – Project to map Perthshire moorland in bid to boost cycle tourism gets underway
14 Nov 2019 – Cycling Industry News – Perthshire seeks to become UK gravel bike capital with fresh investment