Over the last years we have worked with the award-winning team at Vertebrate Publishing – the 2022 Small Press of the Year – on three titles. All books are available with free postage in the United Kingdom. International shipping varies – we will let you know how much the postage is for international orders before your payment. Payment for all books is handled with secure payment links over Zettle/PayPal.
---
BIKEPACKING SCOTLAND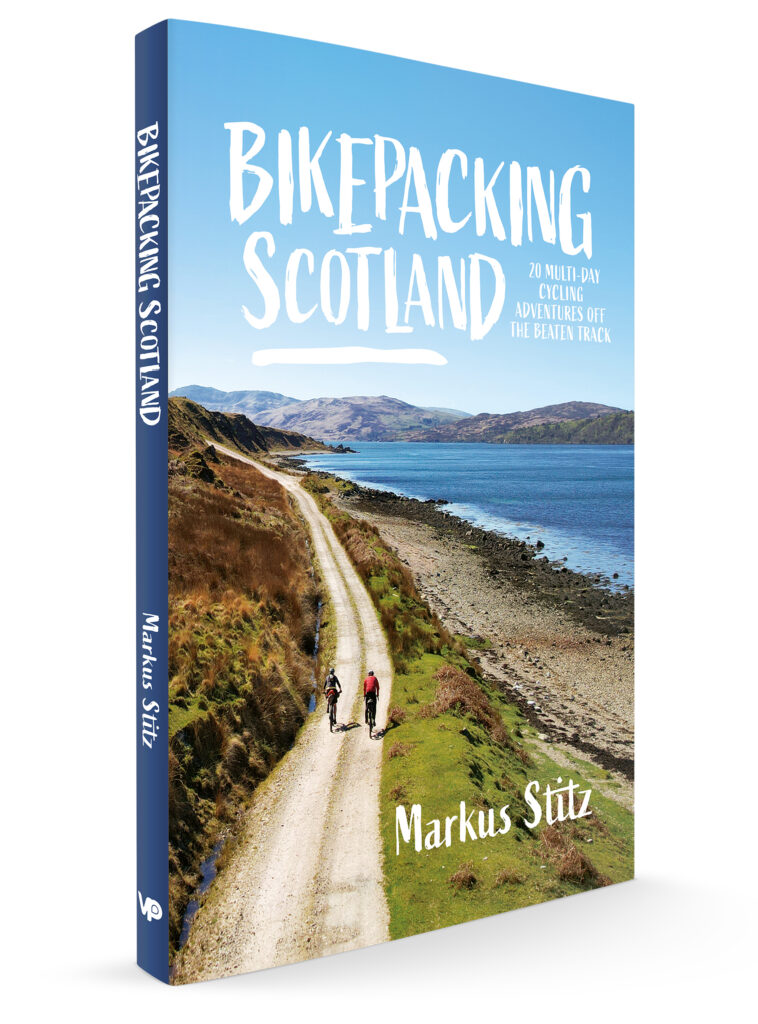 Bikepacking Scotland by Markus Stitz features 20 great multi-day off-the-beaten-track cycling adventures across the Scottish mainland and islands.
Click here for a sample
The book features routes of different lengths which take in the best of the country, from the Ayrshire Alps, Dumfries and Galloway and the Borders in southern Scotland, through Perthshire's unique drovers' roads and the grand architecture of the Central Belt, across to Argyll's islands on ferry-hopping adventures around Islay, a paradise for whisky connoisseurs, and Jura and Mull to spot magnificent golden eagles. And of course the Scottish Highlands with an epic tour of the Cairngorms National Park, home to 25 per cent of Britain's rare and endangered species, as well as the author's own take on the North Coast 500 and more.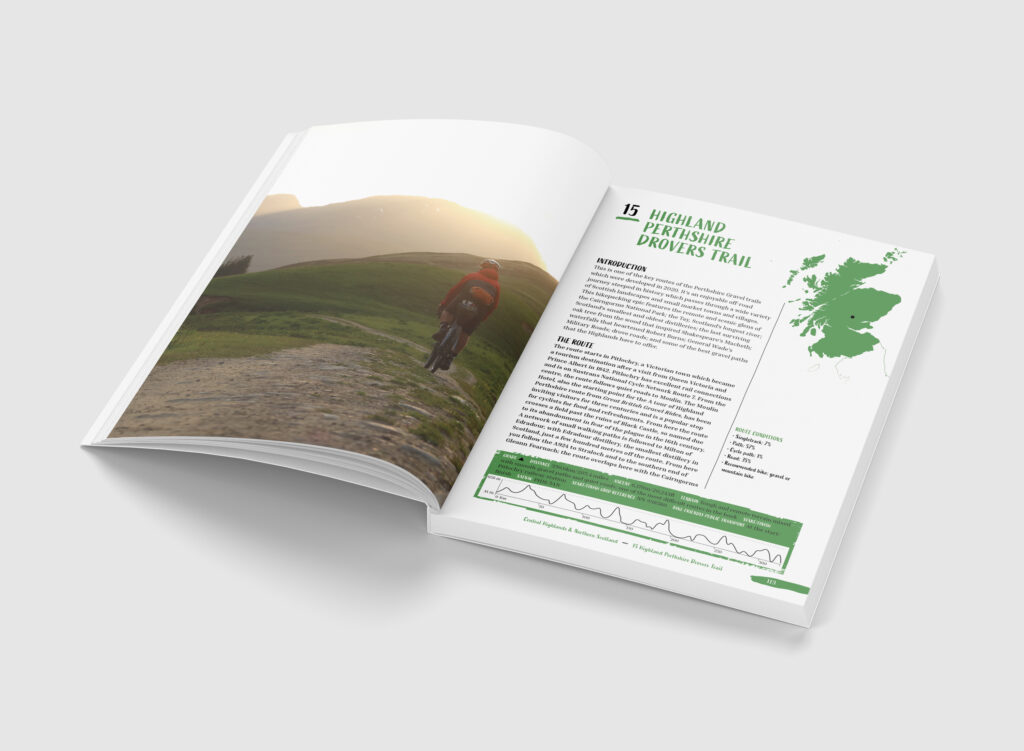 Researched and written by us and mostly accessible by public transport, each route includes all the information you need to help you plan your ride, with points of interest along the route, food recommendations and accommodation options, in addition to stunning photography and overview mapping. Downloadable GPX files of the routes are also available. Alongside further information on access, seasons and what to pack, and valuable insight from Scottish cycling personalities including Mark Beaumont and Jenny Graham, this book is full of practical tips and advice for both experienced bikepackers and those who want to try it out for the first time.
REVIEWS IN THE MEDIA
⭐️⭐️⭐️⭐️⭐️ 'Beautifully illustrated, easy to use and with a ton of useful information … perfect for exploring on two wheels.' Richard Bath, Scottish Field
'Bikepacking Scotland is a well-edited book whose many route suggestions are just for jumping on the bike and riding. It can also be used for inspiration when planning your very own personal route.' Read more on cykelportalen.dk
'this is scottish adventure at its best, writ large with a capital 'a' (if i actually employed capital letters in the first place). markus' unbridled enthusiasm for his metier shines out of every page.' Read more on thewashingmachinepost
'Highly recommended cycling inspiration.' The Ileach
'This book is far more than a visual aid; it's an adrenaline shot, to get you out on open tracks adventuring.' Sportive.com
'The book is well laid out and packed with useful information. The photography is excellent and inspiring.' Read more on FionaOutdoors
'The book is extremely well illustrated as he is not only good at plotting routes, but Markus is a fine photographer which adds to the tease of the book.' Read more at fat-bike.com
READER REVIEWS
5 out of 5 stars (based on 1 review)
A treasure trove of information
A brilliant book jammed pack full of information. It's comprehensive and I love that there are routes of varying difficulty fore both beginner and seasoned bikepackers. I love that you can scan the QR codes and then you've got the GPX files on your phone. Markus has covered everything in the book, from this beginner's point of view.
Reader reviews on Amazon
Reader reviews on Goodreads.com
---
MORE ABOUT BIKEPACKING SCOTLAND IN THE MEDIA
The Guardian – 'It's all about freedom and adventure': five of the best bikepacking routes in Scotland
BBC Outdoors Podcast – Bikepacking in Scotland with Markus Stitz
Scottish Field – Take a look at the top five bikepacking routes in Scotland
UK Hillwalking – Bikepacking Scotland – Five of the Best Routes
The Courier – Best wild adventures in little-known corners of Scotland – by bike
The Herald – Bikepacker Markus Stitz on his love for Lairig Gate in the Cairngorms
Press & Journal – Cycling expert believes Inverness could be a hub for off-the-beaten-track adventures
Der SchottlandBerater (DE) – Bikepacking Scotland von Markus Stitz
Grit! – Gravel with Grinta! (BE) – LEESTIP: Bikepacking Scotland
Gravelunion – Bikepacking Scotland guidebook released
Gravelcyclist – New cycling guidebook will take readers off the beaten track in Scotland
Bikerumor – New Cycling Guidebook Helps Bikepackers Explore Scotland's Mountains and Glens
John D Burns Podcast – Markus Stitz: Bikepacking Scotland
Inverness Courier – Markus Stitz: Opening up a world of bikepacking adventures in the Highlands
Advnture – Where can I go bikepacking? New book reveals a host of top Scottish routes
Helensburgh Advertiser – Bikepacking Scotland: New book highlights Helensburgh cycling routes
---
GREAT BRITISH GRAVEL RIDES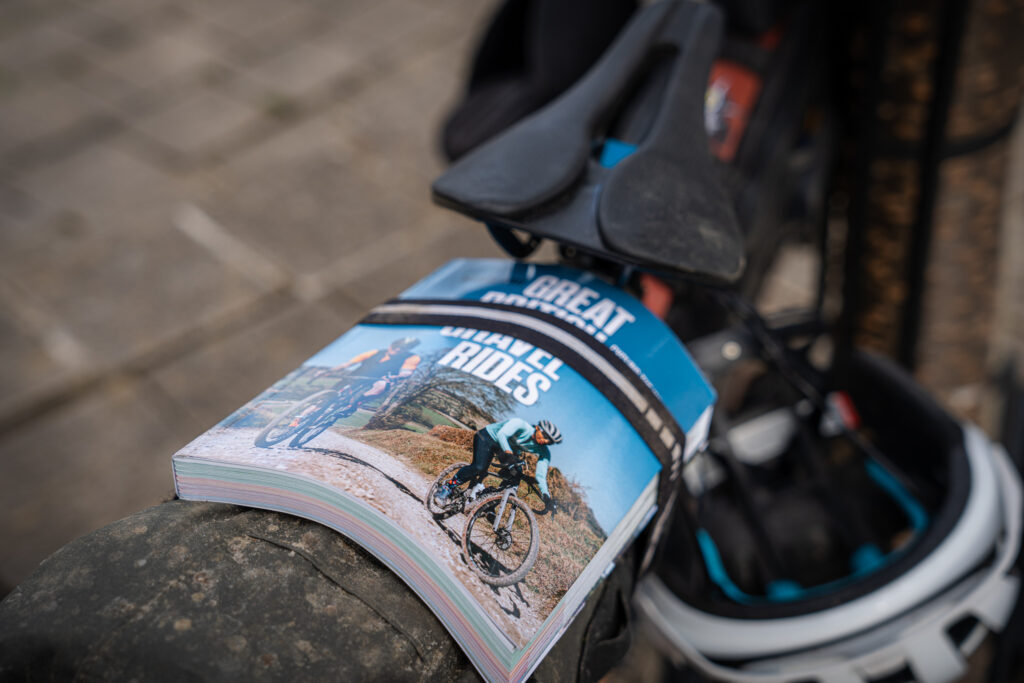 Great British Gravel Rides pays homage to the very best gravel cycling across England, Wales and Scotland. I have curated a collection of 25 routes across Britain – each a favourite route of a well-known gravel cyclist. You can join round-the-world cycling men's record holder Mark Beaumont in East Lothian, experience a different side of East Anglia with ultra-endurance racer Josh Ibbett and GBDURO20 winner Gail Brown, embark on a coast-to-coast trip across Scotland with round-the-world cycling women's record holder Jenny Graham, or see the best of Scottish Borders with diversity in cycling champion Aneela McKenna.
Find reviews. media coverage and much more on markusstitz.com
---
BIG RIDES – GREAT BRITAIN & NORTHERN IRELAND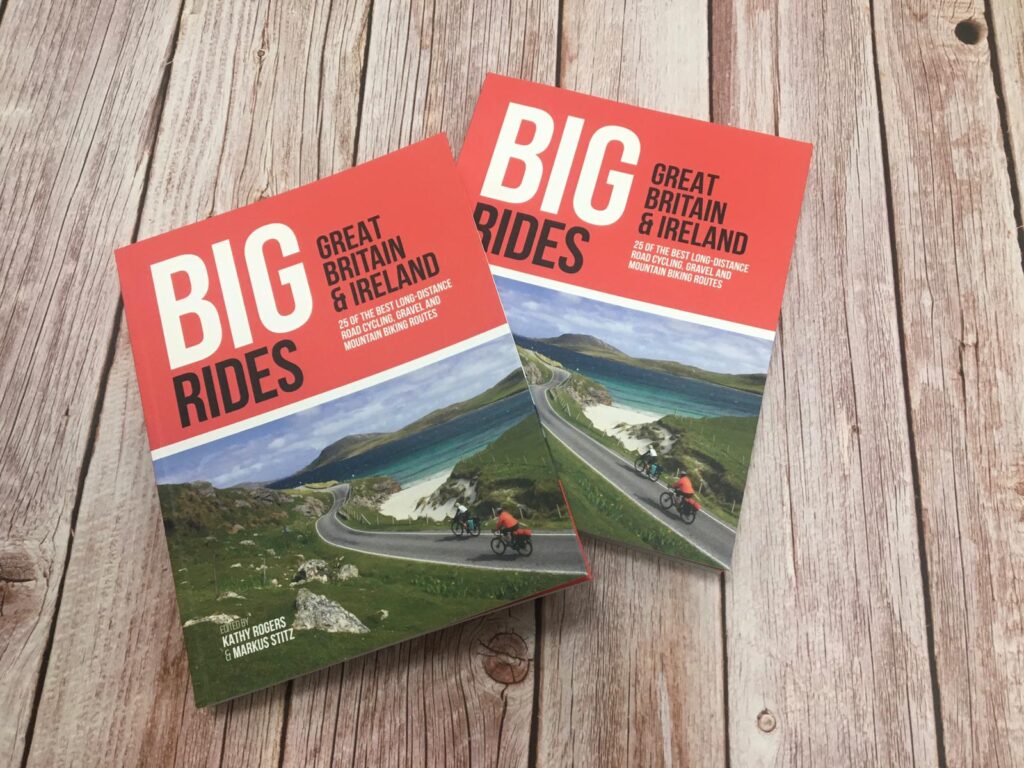 Big Rides: Great Britain and Ireland is an inspirational guide to the most iconic, epic and popular long-distance cycle trails in England, Scotland, Wales, Northern Ireland and Ireland, including two excursions from mainland Britain to Northern France. The twenty-five featured routes showcase the best of Britain on two wheels. For those who prefer to pedal on-road, the routes take you along the historic Way of the Roses trail through Lancaster and York, as well as across Scotland's Atlantic perimeter on the Hebridean Way. The trails head off-road to Northern England's hills on the Sea to Sea (C2C) and past iconic monuments in Southern England on King Alfred's Way. Mountain bike enthusiasts will find plenty to challenge them in the Sarn Helen and through the Scottish Highlands on the renowned Highland Trail 550. The routes then head offshore, to Ireland's coast on the Wild Atlantic Way and from Devon and Dorset's Jurassic Coast to Normandy's alabaster cliffs on the Tour de Manche. Vertebrate Publishing's Big Rides books are designed to inspire big adventures. Rather than being carried along the route, this guide provides everything you need to plan and explore further, including a general overview of the trails, specific technical information, overview mapping, key information and stunning photography. As well as this, each route specifies approximate timings which allows for you to plan your adventure at your own pace. Whether you're completing routes at a leisurely speed or racing towards the finish, let Big Rides: Great Britain & Ireland be your guide.
---
You can also buy signed copies of my books also at the following local shops:
Edinburgh
Scotland Central
Scotland South
Scotland North
England
Alternatively buy the books in good book shops, or ask your local library to order them.